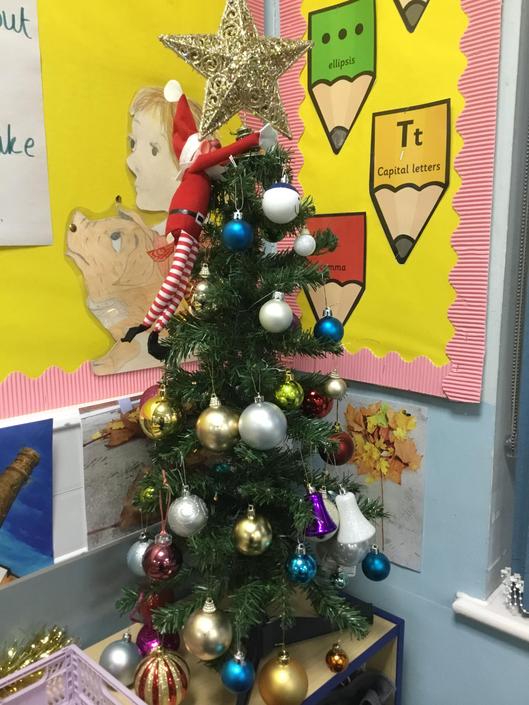 After a busy week with NFERs we have begun our week with lots of fantastic work and learning. Also, we have had a surprise visitor this week who has been causing lots of mischief...we are keeping an eye on the Elf each day to see what he does next!
Grammar
In Grammar this week, we have focused upon superlative and comparative adjectives. We learnt that comparative adjectives end in the suffix -er and that superlative adjectives end in the suffix -est. We also learnt the spelling rule of when we add the suffixes to an adjective that ends in y we swap the y for an i. For example, happy becomes happier and happiest.
Writing
In Writing this week we have started our new genre of writing which will be a non-fiction text all about spiders. I am really looking forward to seeing this piece of writing as we have not yet completed a non-fiction independent write yet in year 4. On Tuesday we began to prepare for this by gathering facts and information all about spiders. We conducted research using the sub-headings of 'Predators or Prey?', 'Deadliness' and 'Delicate Designers'. We found lots of really interesting facts. Did you know that even though every spider produces silk, not all make webs?
Arithmetic
In Arithmetic this week we have focused upon factor pairs. We learnt how to find factor pairs systematically in order to find all possible answers. We will continue to build our fluency throughout the week.
Maths
In Maths this week we have continued with our topic of 'Multiplication and Division'. On Monday, we learnt how to multiply a 2-digit number but a 1-digit number where we will need to exchange. Mostly, we did a good job of this however we shall recap this to consolidate our knowledge. On Wednesday, we recapped our multiplication from the day before and I was so impressed with the progress made. The presentation in this lesson was particularly impressive and you can see some high-quality examples below!
History
In History this week we have had our final lesson all about the 'Roman Republic'. This week we learnt all about culture in the Roman Republic. We learnt about different classes of people such as the patricians, plebians and slaves. It was really fascinating to consider how people were treated in Roman times and how this compares to modern-day. Y4 Manatees asked some really high-quality historical questions in this lesson which was great to see. As always, Manatees continue to impress in History. We are certainly a class of Historians!