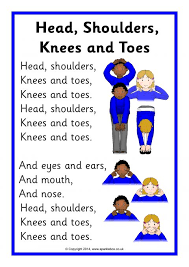 This week we have continued our learning around the focus of the song 'heads, shoulders, knees and toes' but instead of focusing on facial features we have looked at other parts of our bodies. This is happening during our carpet sessions, independent provision and in adult led activities. From last weeks learning it was clear that some of the children need work on their knowledge of colour so this is something we are going to work on daily to embed this knowledge for all children.
As always we began the week with 'Modelling Monday', supporting the children in the new activities in the indoor and outdoor provision and facilitating their learning by questioning and scaffolding. We were extremely busy and demonstrated lots of new knowledge and for a lot of the children it is clear that their confidence is growing with both the adults and others within the class.
We have been washing babies body parts in the explorative area, the children loved using the warm soapy water and sponges to clean the babies, we asked the children to clean certain body parts to show their understanding.
In the outdoor area we drew around our friends bodies and we then had to label the different body parts, we then discussed the use of each body part and why we need them e.g. we need feet and legs to walk and run... We are going to continue to work on this knowledge this half term.
We had lots of different coloured objects which we then had to sort correctly into colour piles, even from last week it is clear to see that our knowledge has developed.
To help to develop our fine motor skills we have been using our finger pincher grips to pick up the buttons and then place them onto different lines and shapes. This activity is really good to help to develop our fingers ready to hold a pencil and to then draw and write with control.
I have also been so impressed with the children's knowledge of zero which we have been learning about in numbers and patterns, independently on the maths table the children have been able to sort images into zero and not zero and the children have showed a real understanding of it.
We have also had two new role play areas which we can develop our narrative in and continue to work on our collaborative play with others. In our Nursery classroom we have a baby clinic, which the children have loved especially as some of the children have just recently had new babies into their families and they have also liked showing me how to care for my baby when it arrives. In the outdoor environment we have a new potion lab and the children have been making connections to Halloween and its up coming date. The children have also been continuing our work on colours and have also been exploring colours and seeing what happens when they mix together.
Due to the weather getting colder and some of the children being unwell and unable to come to school we have spent some time talking about personal hygiene, we have spoken all about germs and the fact we cannot see them because they are so small but just because we cannot see them doesn't mean they are not there. To represent germs and for us to understand how hand washing gets rid of germs from our hands I put glitter onto the children's hands and they were amazed after washing that the germs (glitter) had disappeared down the sink. I hope the children go home and show you their super hand washing skills.
I hope that we have some sunshine this weekend and I will see you all on Monday x