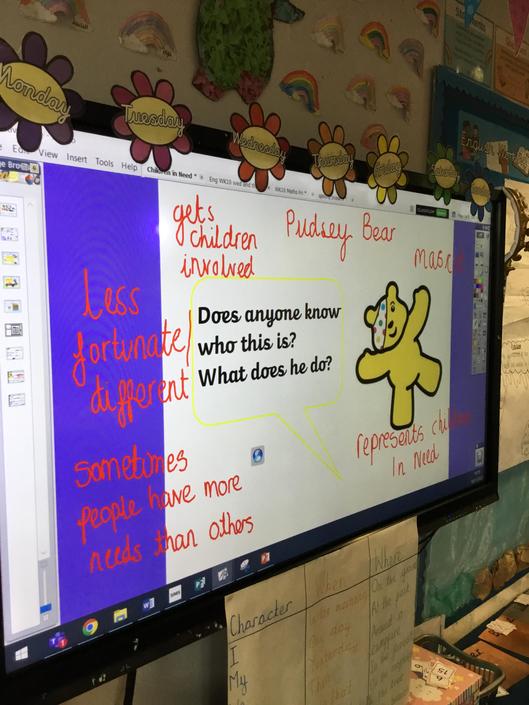 This week we have celebrated Anti-Bullying Day by coming to school wearing odd socks! We learned why differences should be celebrated and discussed how to be kind to each other. We used this year's theme 'Reach Out' to explore who we would confide in if we ever felt like we were experiencing (or observing) bullying in our school.
It was also a special week as we celebrated Children in Need day on Friday, coming to school wearing yellow or something spotty to link to Pudsey Bear. We discussed what a charity was and explored who Pudsey is and how he helps children who are less fortunate than us.
In English we have completed our first person re-tell of Plop's adventure. We used all of the skills we've learned so far in Year 2 including a range of openers, capital letters, questions and exclamations. Next week, we will have a big focus on using conjunctions and adverbs as these are what we're struggling to include at the moment. Take a look at some of our writing below...
In Maths this week we have continued with our Multiplication topic but progressed onto multiplying by 2, 5 and 10 using a variety of different methods. We discovered that we could use our counting to help us and some of us were able to solve questions without any working out or materials! We continued using equal groups to support where needed and this has really helped us visualise our times tables. Next week, we will be sending times table books home to practise the 2 times table.
In Encompass we were really excited to learn about the Great Fire of London. We created a large scale timeline of events after watching a video and listening to the story. We discussed that sometimes, the stories differ because it happed so long ago. Some of us completed a quiz, answering questions about where the fire started, how it began and why it spread so quickly. This linked well with last week's lessons as we already knew in 1666 they had wooden houses and lack of a fire service. We were most excited to use the roleplay, pretending to work in a bakery, making cakes and serving customers.